Google Duplex, the new AI that makes phone calls for you
Could your smartphone really make phone calls for you? With Google's new Voice Assistant, anything is possible. 
Google recently wrapped up its 2018 I/O keynote this week and announced a host of exciting new features soon to be rolled out. We've got a new, ambitious Android update on the way. John Legend is lending his voice to Google Assistant. Gmail can almost write emails entirely by itself. And most intriguing of all, your phone may soon be able to make phone calls for you. Interested in finding out more? Then keep reading.
Google Duplex
The most exciting moment from the presentation came when Google CEO Sundar Pichai played back a phone recording placed by the Google Assistant to a hair salon to set up an appointment. This new technology is called Google Duplex, and it's Artificial Intelligence that can make phone calls for you - and not just dial the number but have the conversation with a person on the other end (in this case, the hair salon receptionist). The ensuing conversation sounds completely natural (even down to the Assistant's 'umm' and 'mhmms'), and the receptionist has no idea they're talking to a computer. But don't take our word for it, have a listen below.
Google Duplex isn't designed to replace humans altogether. It's designed to carry out very specific tasks in what Google calls 'closed domains'. So, for example, you wouldn't ask Google Duplex to call your mom on Mother's Day, but you might ask it to book a table at a restaurant. Google Duplex is designed to be the missing link between Google Assistant and any business, as it enables the Assistant to get information that may not be readily available online (such as opening hours or stock quantity). So Duplex does what you would do, it picks up the phone and asks for the info. The technology is still in the development phase but should start rolling out to Android smartphones by the end of the year.
The Google Assistant is also getting six additional, natural sounding voices, along with the default voice. And Google is currently working with musician John Legend to create a new voice which should be available later this year. Stay tuned.
Android P
Android's new operating system, which will be available later this year, is simply called Android P for now (and it's anyone's guess which type of candy the P will come to stand for - Popsicle? Peppermint?). It promises a new, refreshed look and a host of new features, including gesture-based interaction for switching apps and a new dashboard that's meant to show how you're spending time on your device, including time spent in apps, how many times you've unlocked your phone, and how many notifications you've received. You can even set time limits on individual apps if you need help cutting back on the time you spend staring at your phone.
Google Maps and AR
Google Maps has grown over time from just an online map to include restaurant reviews, landmark highlights and everything in between. A new 'For you' tab lets you follow specific neighbourhoods to see new restaurants and business that are trending in the area. And you will shortly be able to coordinate with friends in real time to make a shortlist when choosing places to eat.
Now with the inclusion of Augmented Reality, Maps is becoming that much more interactive. Point your camera in a direction, and Google will pair AI with Street View data to give you an interactive, AR turn-by-turn experience when you're on the move. There's even a cool little fox to help keep you on course.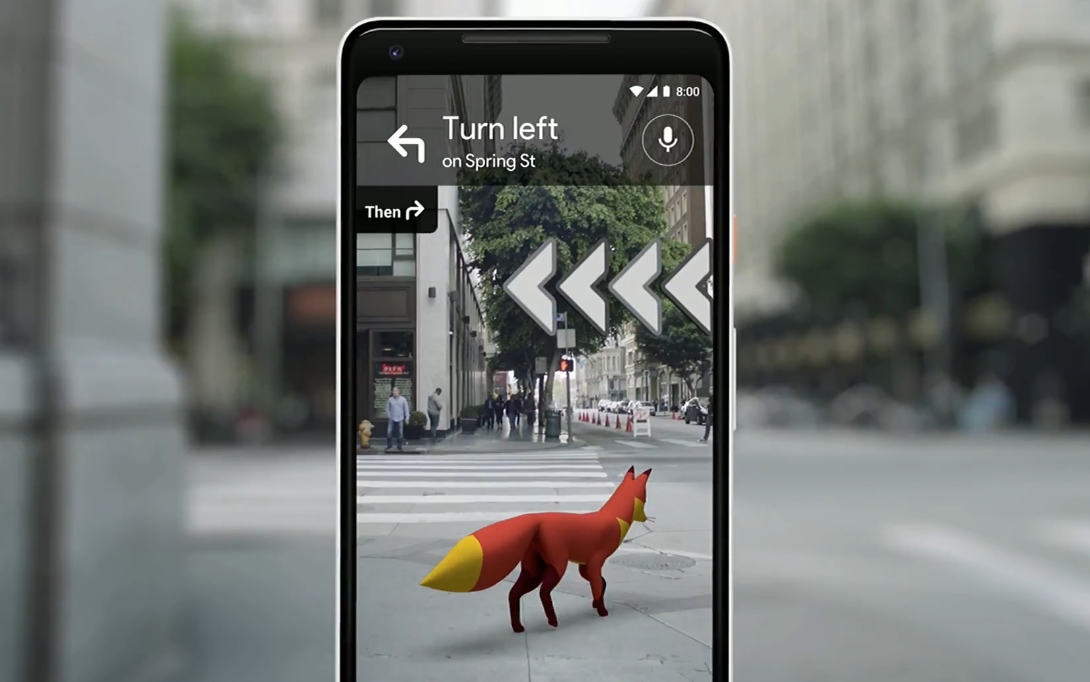 Self-drafting emails from Gmail
Gmail introduced the Smart Reply feature a while back (those short, two or three line optional replies you see at the bottom of your mail), and has begun expanding on the idea with Smart Compose. The system uses AI to help you in drafting emails faster by making suggestions for complete sentences while you're typing.
For the latest in smartphones and tech visit Vodacom Online today.
Photo by Antoine Barrès on Unsplash