We use our smartphones to stay in touch, take photos, shop, bank, access business information, and so much more. And the more we use them, the more sensitive data they store. What could happen if your phone falls into the wrong hands? Samsung designed Knox to address these concerns, so you can worry about more important things.
Knox is Samsung's guarantee of security, and a secure device gives you the freedom to work where, and when you want. Samsung Knox consists of a highly secure platform built into the Galaxy S9 (as well as the S8) with a set of solutions that leverage this platform. Whether you'd like to keep your personal photos private, or remotely manage a batch of business smartphones, Knox has you covered.
Samsung Knox design
The Knox platform consists of overlapping defense and security mechanisms that protect against intrusion, malware, and more malicious threats
Knox addresses the most pressing security problems facing enterprises' COPE and COBO strategies today. Samsung has identified the following key challenges in making an Android-based system enterprise ready:
Device rooting
The mixing of enterprise data with user apps on the same device
Device theft
The difficulty of securing custom enterprise applications
The lack of enterprise manageability and supporting utilities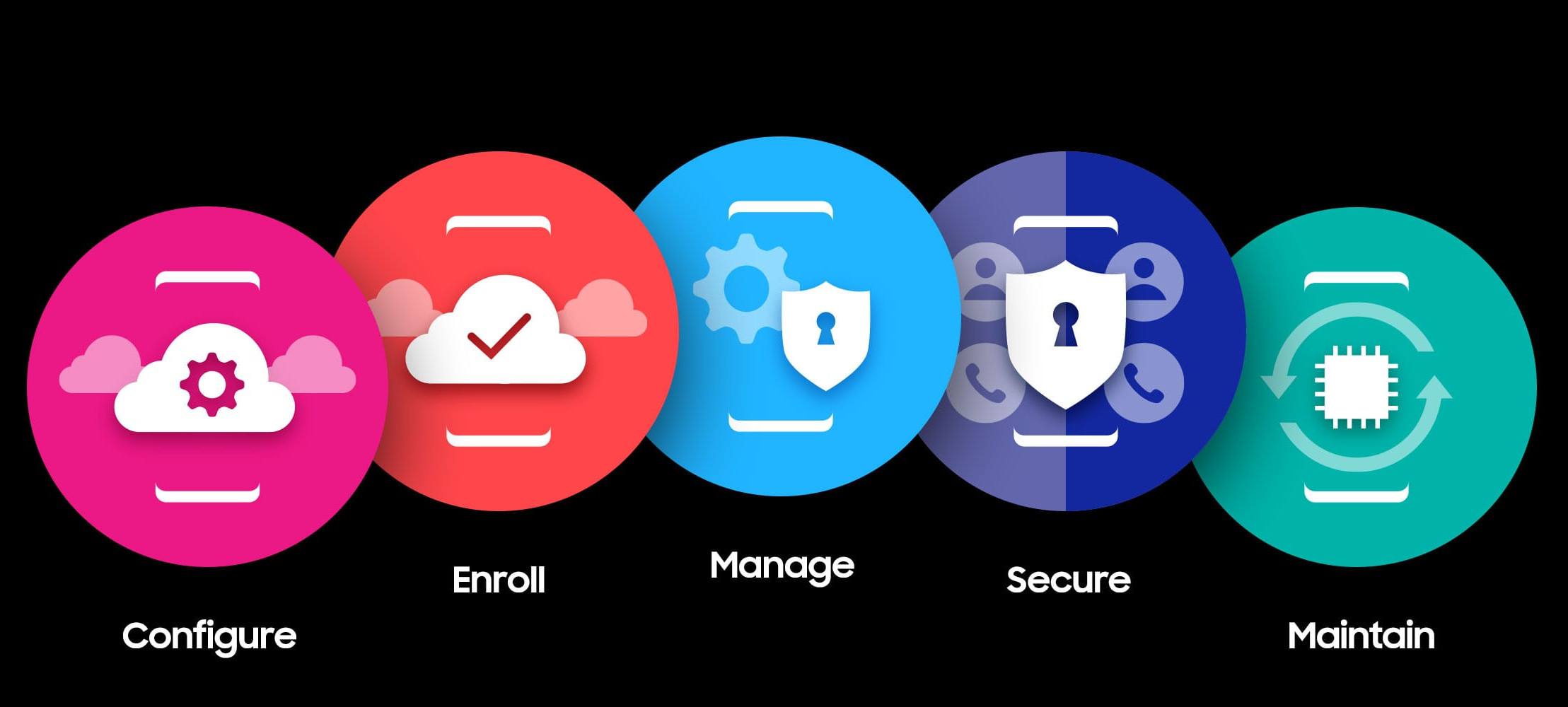 Workspace
Isolate business applications and data from personal ones with Knox Workspace. Knox Workspace creates an encrypted container on Samsung Galaxy devices, which IT admins can remotely manage by integrating it with their EMM.
Dual-persona
Knox Workspace allows your employees to store and access confidential data in an encrypted container on a smartphone or tablet, while using the rest of the device as they normally would
Unlike other containerization solutions, the keys for encrypting and decrypting the Knox Workspace container are stored in the device chipset, making it impervious to attacks. Any apps, email or files stored in the Knox Workspace container are encrypted when the container is locked. The data can only be decrypted and accessed when the user enters their PIN, password, pattern, or through biometric authentication.
If the device is ever compromised, the Knox Warranty Bit will fuse and the Knox container will permanently lock down to prevent data leakage.
Samsung designed Knox to protect your data from the minute you turn on your device, through work and play and everything in between. The Samsung Knox platform lives in your phone and is always working to protect your data in the following ways:
Safeguard your work data
With Knox Workspace set up on your phone, all your work apps and data will be safely stored in a secure container. You can feel confident that your work data will remain secure, while your personal information, outside the container, will remain private.
Shield your personal data
Hosting your personal apps, such as banking or insurance, in the Secure Folder's guarded container allows you to hide them from other apps on the home screen, while gaining an additional layer of security.
Protect your identity
You can log in to your bank app with the Iris scanner on your phone using Samsung Pass, which provides a simple and secure 'identity management as-a-service'. Samsung Knox ensures your biometric data is encrypted and kept intact, so only you have access.
Upgrade to the Samsung Galaxy S9 online with Vodacom business from just R799 per month.
Suggested Posts
Video chats don't have to be intimidating or annoying. Here are a few tricks to make your online meetings feel smart and professional
Covid-19 has changed the world in the blink of an eye, sending many of us packing to our homes. Here are a few things you can do at home to keep yourself safer and help protect your work data.