Fitness that's fun
A new year brings a new set of resolutions, and getting fit and active is usually at the top of the list.
A new year brings a new set of resolutions, and getting fit and active is usually at the top of the list.
As the holidays come to an end, it's time to get back into an exercise routine. Thankfully the tech world has a multitude of handy tools to help out. They'll motivate you to set new goals and stay on course while you're out exploring new routes or working up a sweat in the gym.
Google Fit
Google Fit is free for Android and uses your smartphone's built-in sensors to track health and fitness data. Focused primarily on fitness, it will automatically detect when you're walking, biking or running and use the data to help you to monitor your fitness levels. The app also lets you set goals, view your stats and check your progress from your phone, the web, your tablet or your Android Wear Smartwatch. To download Google Fit, go to the Google Play store.
Apple Health
Apple's inbuilt Health app is less a fitness app and more of an all-round health app. By connecting with a host of different apps you'll get a holistic view of what's going on in your body on the Dashboard. You can manually input any data you choose (for instance if you have your blood pressure and cholesterol tested), or link other apps that monitor everything from your nutritional intake to sleep patterns and your daily activity. Download Apple Health.
Strava
Strava is one of the most popular fitness apps available right now. The free version gives you access to all of the most useful features, such as GPS tracking, integration with ANT+ enabled heart rate monitors and speed sensors, and access to a community of like-minded athletes the world over. You can follow the exercise routines of top athletes such as Peter Sagan and Louis Meintjies, and compare your efforts to those of your friends. The paid version includes training programmes and Beacon, a new feature that shows your location to family and friends. Download Stava for Android and iOS
Fitbit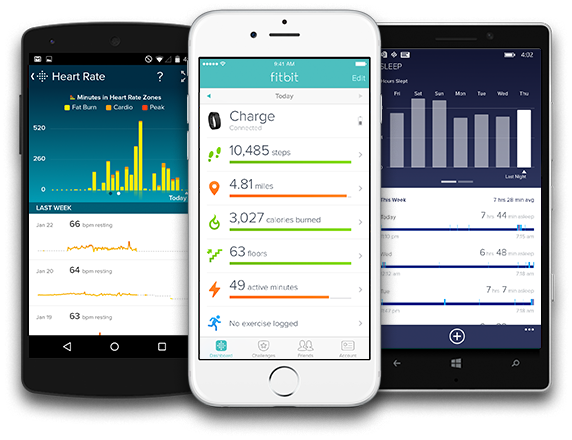 The Fitbit app allows you to take part in challenges against your friends and family.
The Adventures Challenges on the app allow users to embark on a virtual experience through exciting destinations to discover landmarks, take in breathtaking views and reach their fitness goals. The app records your steps in real life to reach Daily Destinations and make your way along stunning virtual trails like Valley Loop in Yosemite.
If you own a Fitbit Blaze then you'll probably know all about FitStar. It's a fitness platform dedicated to creating personalised workouts including yoga. The Blaze is the only Fitbit tracker that offers step-by-step workouts you can follow from the Blaze's screen.
That doesn't mean FitStar can't be useful for the rest of the Fitbit fraternity, though. Once you've set up a FitStar account and linked it to your Fitbit account, workout data from FitStar will be synced and fed into the app to complement your daily tracking data.
Overall Fitness
If you're stuck behind a desk all day, use an app like Moves (Android and iOS) to measure your activity during the day. It automatically tracks your steps, bicycle rides and runs and shows you how much exercise you do daily. It's a no-fuss way to increase your level of activity and a good reminder to get up from your computer every so often. Download Moves for Android and iOS